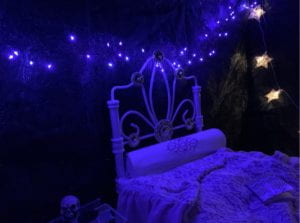 Ok, so straight off the title is a lie. I'm actually working on a one hour stop motion, but because it's an hour, it takes a long time. I started in April and am still working on bits of it at random times, but this post isn't about that! So now that I've got that all cleared up, I can start the actual post.
I am currently working on my Halloween American Girl Halloween stop motion! (Please don't judge me for liking dolls. We all have things we like!✨) I am not very far into it and I have to post it by Halloween, so I'm scrambling to stay on top of that, as well as school and other activities. I think I am making great progress, however.
If any of y'all (wow, I've never typed y'all before 😝) don't know what stop motion is, it's basically a form of video where, instead of a smooth video, it's a bunch of pictures, where you only move the object a little bit. It's almost a form of animation, a way to make inanimate objects move. Like I said earlier in this post, it takes a long time.
The pictures I added are images of the first scene in the video. I really like this set because it's so magical! What's great about stop motion is that I didn't need to take those extra pictures – I just stole them from my stop motion so far.
That's all from me! Bye! <3